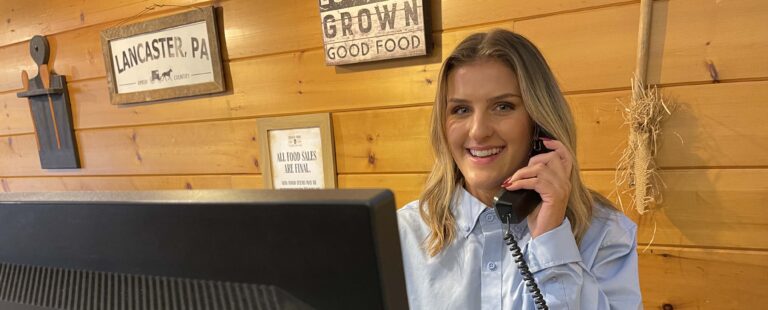 Summer Internships for Postsecondary Degree Students
Thomas E. Strauss, Inc. offers paid summer internships to students enrolled in a post-high school degree program including college, technical school and graduate studies, who are looking to complete an internship for school credit in the a hospitality or tourism field (you do not need to be pursuing a hospitality degree). The program is minimum of 8 weeks. It is designed to give students a well-rounded overview of the hospitality industry within our hotel, restaurants, retail stores and corporate services. We invite all those interested in a Summer Internship Program with Thomas E. Strauss, Inc. to submit an application.
About Thomas E. Strauss
We are family owned business in Lancaster County PA. Over the last 90 plus years, we have grown from a restaurant and truck repair to a hospitality group. We own 2 properties in Lancaster County, our 10 acre Plain & Fancy Farm in Bird-in-Hand and our Route 30 property in Ronks. Our businesses include: Amish View Inn & Suites, Miller's Smorgasbord, Smokehouse BBQ & Brews, Locally Made Food Shop, Miller's Bakery, Plain & Fancy Country Store, Plain & Fancy Restaurant, Miller's Gift Shop, and The Quilt Shop at Miller's. We also have our property management business. Our mission is: Making People Feel Valued. That includes both our guests and our team members. This is why our guests return time and time again and our team members stay on for years.
About the Program
Each year, we offer around 6 positions. Interns will be assigned to one business but get experience with all Thomas E. Stauss businesses. The positions have either a restaurant or hotel focus.
The primary business units are:

AmishView Inn & Suites
Smokehouse BBQ & Brews
Miller's Smorgasbord

Expectations:

A friendly, professional demeanor towards coworkers and guests – after all our mission is to make people feel valued.
Self-starter who owns the responsibility of the role.
Show up to work on time, ready to work.
Commitment to our values of diversity, integrity, excellence, accountability, community, and FUN.
Internship Details:
Applications: Applications are due by April 15, 2024. All internships will be determined and accepted by May 15, 2024.
Internship must start by June 17, 2024
End date: Minimum of 8 weeks
Hours: Minimum of 40 hours per week, exact hours to be determined by business unit manager based on their business operations.
Pay: Competitive pay, plus a $1/hour bonus for completing the 8-12 week program to be paid at completion of programs with final check.
Discounted Meals: Interns are eligible for $5 meals while working and for a discount at the restaurants on days off.
Employee Appreciation Days: Interns are invited to join in on Employee Appreciation Days
Goal: To provide a well-rounded experience for interns of all skill levels and interest.
Program: The program will be broken into approximately 2 week periods so the intern can rotate through each area in their business unit. For hotel, this includes Housekeeping, Breakfast & Kitchen, Guest Services and Business Management. For restaurant, this includes Front of House, Back of House, Beverage Management and Retail Operations. Each intern will also get time with corporate support systems and business management.
Additional Details: Program is adjustable based on previous experience and interest of the intern. Interns must provide school internship requirements to Thomas E. Strauss. Interns must be at least 18 at the start of the internship. Housing is not provided.
Employee benefits are subject to change. The most current and complete list of part- and full-time employee benefits is available in the Thomas E. Strauss, Inc., HR Department. Ask your hiring manager for that list.
Thomas E. Strauss, Inc. (TES, Inc.), is an Equal Opportunity Employer and Prohibits Discrimination and Harassment of Any Kind. TES, Inc. is committed to the principle of equal employment opportunity for all employees and to providing employees with a work environment free of discrimination and harassment. All employment decisions at TES, Inc. are based on business needs, job requirements and individual qualifications, without regard to race, color, religion or belief, family or parental status, or any other status protected by the laws or regulations in the locations where we operate. TES, Inc. will not tolerate discrimination or harassment based on any of these characteristics. TES, Inc. encourages applicants of all ages.